Site Selection
Cattaraugus County's experienced economic development professionals are available to help you with the relocation and site selection process.
Site Selection Services:
Property selection and site tours
Technical assistance
Planning and coordination
Financial packaging
New Property Listing Coming Soon!
New available Commercial & Industrial property listing coming soon.
Current listing is available on the Interactive Parcel Viewer
The properties posted on the viewer are parcels that the municipalities have asked be listed.
Note: The information pertaining to the properties listed above is derived from sources believed to be accurate, but no representation, expressed or implied, shall be drawn from the information presented. Property is subject to omission, withdraw from the market, prior sale and change in price.
With any property search it is recommended that you contact a local realtor for a detailed listing of available properties in your targeted area. Use your favorite search engine, type in the municipality and real estate agent.
The map below is hot linked to the Cattaraugus County Real Property and GIS Services' Parcel Viewer. The viewer has an "Available Sites" layer that can be used to locate potential sites available for development. The viewer also contains other important layers that will assist you in making your determination (ex: zoning, flood plains, roads etc). When the viewer opens locate the "Layers" box, click on the box in front of Economic Development Team, this will turn the layer on. Currently there are available parcels in the Cty of Olean, Randolph, Great Valley and Salamanca so zoom in to desired town, village or city until you see the parcels. The zoom tool is located on the top left hand side of the viewer. Use the "parcel Information" tool located on the top bar, blue circle with white "i" and click on the desired parcel and a new window will pop up with the parcel information.
You can turn other layers on or off by scrolling through the layers and clicking the box (a check mark indicates the layer is on). Example: You can turn on the aerial photos by clicking on the + sign and checking the 2006 Color 3m and then zoom in on the parcel.
Click on the image below to go to the parcel viewer.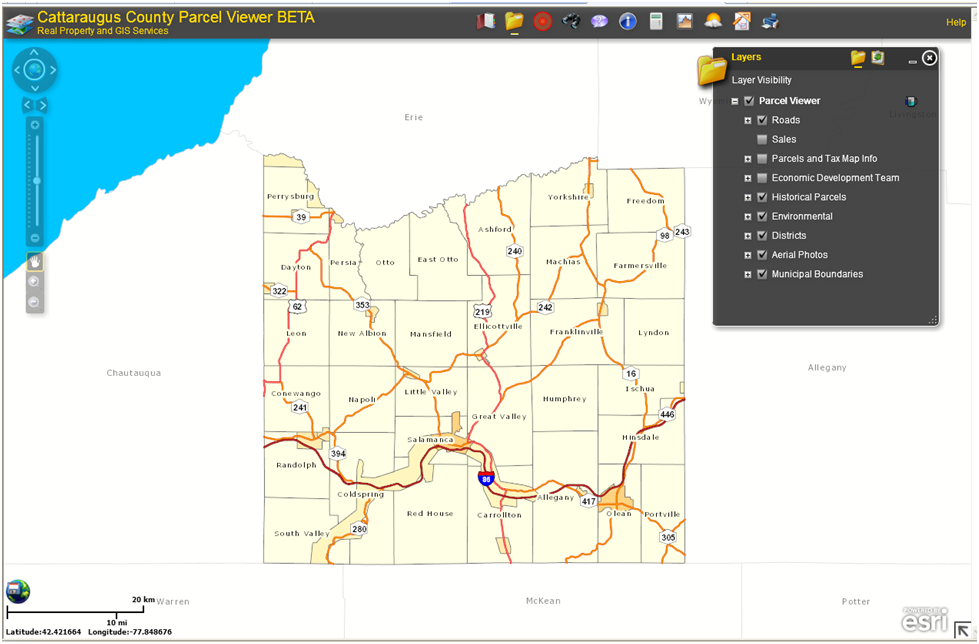 For more information on the City of Olean properties contact Mary George (716) 376-5647.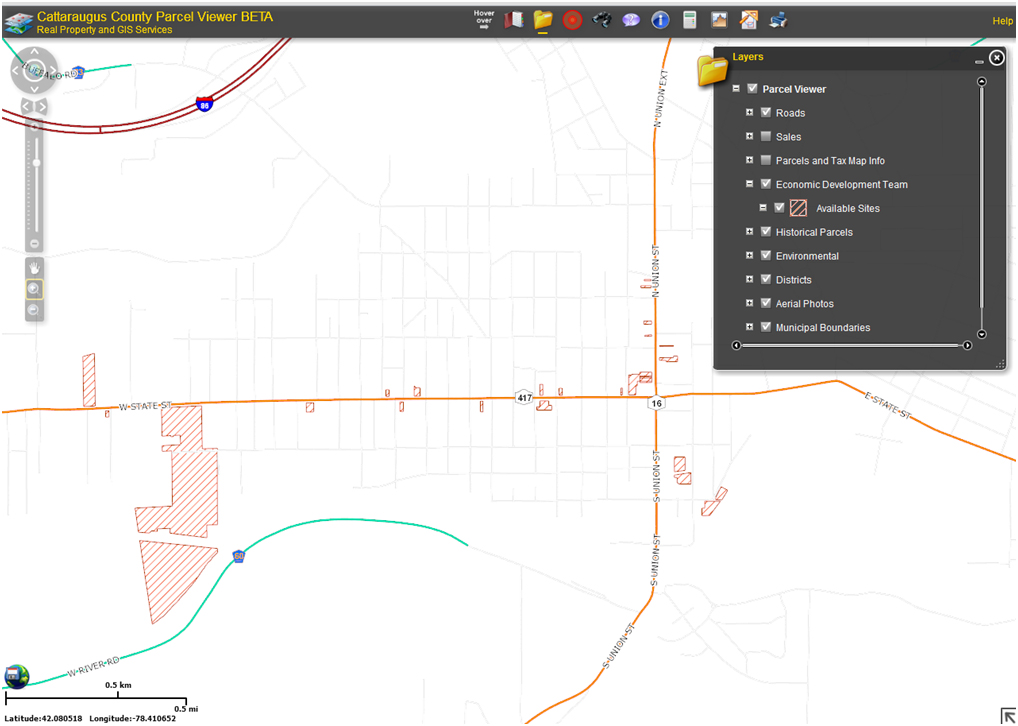 For more information on the Great Valley parcel contact Donver, Inc (716) 945-1910.
Buffalo Niagara Commercial Listing System (CLS) - Generate commercial and community data reports, search commercial real estate listings, explore customized advanced mapping tools. http://westernnewyork.zoomprospector.com/
Unified collaboration to support economic growth in Cattaraugus County
Add your Business
Want to see your Cattaraugus County business on our business list for the world to see? It's FREE for your Cattaraugus County business! Get Started Here